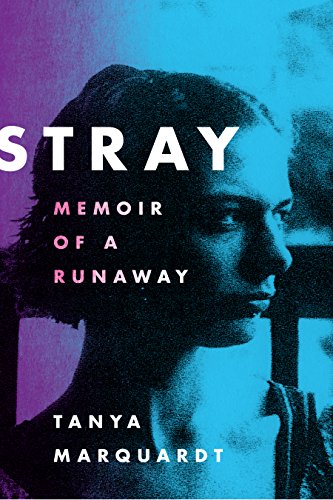 STRAY: MEMOIR OF A RUNAWAY
A Best Queer History & Bios Pick of 2018, The Advocate:
Marquardt's "compelling voice could become a path of fulfillment and escape. STRAY is the story of how one young woman has to embrace her own vulnerabilities and heal the wounds of the past as she forges ahead into adulthood."
Brutal and beautiful, Stray is the true story of a girl who runs away and finds herself.
After growing up in a dysfunctional and emotionally abusive home, Tanya Marquardt runs away on her sixteenth birthday. Her departure is an act of rebellion and survival—whatever she is heading toward has to be better than what she is leaving behind.
Struggling with her inner demons, Tanya must learn to take care of herself during two chaotic years in the working-class mill town of Port Alberni, followed by the early-nineties underground goth scene in Vancouver, British Columbia. She finds a chosen family in her fellow misfits, and the bond they form is fierce and unflinching.
Told with raw honesty and strength, Stray reveals Tanya's fight to embrace the vulnerable, beguiling parts of herself and heal the wounds of her past as she forges her own path to a new life.
Stray: Memoir of a Runaway is published by Little A, and available in hardcopy and paperback, and as an audible book.
"Marquardt's memoir is a brutally honest reflection on her fraught adolescence and journey of self-realization…Hers is an entirely relatable teenage journey: at once sensitive and selfish, desperate and brash. This is an edgy memoir about a young woman trying to understand herself." —Publishers Weekly
"The highly expressive narrative is often brutal and raw, a combination of truth and penance, and it feels like a confession leading toward sanity and forgiveness." —Kirkus Reviews
"Stray is a raw-boned beauty of a story, as fierce and brave as the author herself." —Alexandra Styron, author of Reading My Father: A Memoir
"A sharply etched portrait of working-class teenage life in small-town Canada, Tanya Marquardt's Stray is an engrossing coming-of-age story that is moving, funny, and heartbreaking. Unafraid to travel to dark places, Tanya shows a tenderness, innocence, and wonder that makes us nod in recognition at what it is to leave childhood behind and enter the adult world. The prose is sparse, direct, and elegant. I couldn't put it down, and I read it in one day." —Carmen Aguirre, author of Something Fierce: Memoirs of a Revolutionary Daughter
"Her coming-of-age memoir tells a tender, heartbreaking story of a young woman who became an adult sooner than she had to." —HelloGiggles
"In a concise, refreshingly honest few hundred pages, the artist details a challenging life with precise details free from the usual tedious armchair psychological babble that passes for insight… easily read and well worth it, this book is one of those one-night reads. You won't want to put it down until it's finished because it flows so well." —Vancouver Sun